After a pretty good night in the tent I woke up much later than expected, but was ready to go within an hour, all packed up. The ground is so dry that I did not have to wait for the tent to dry.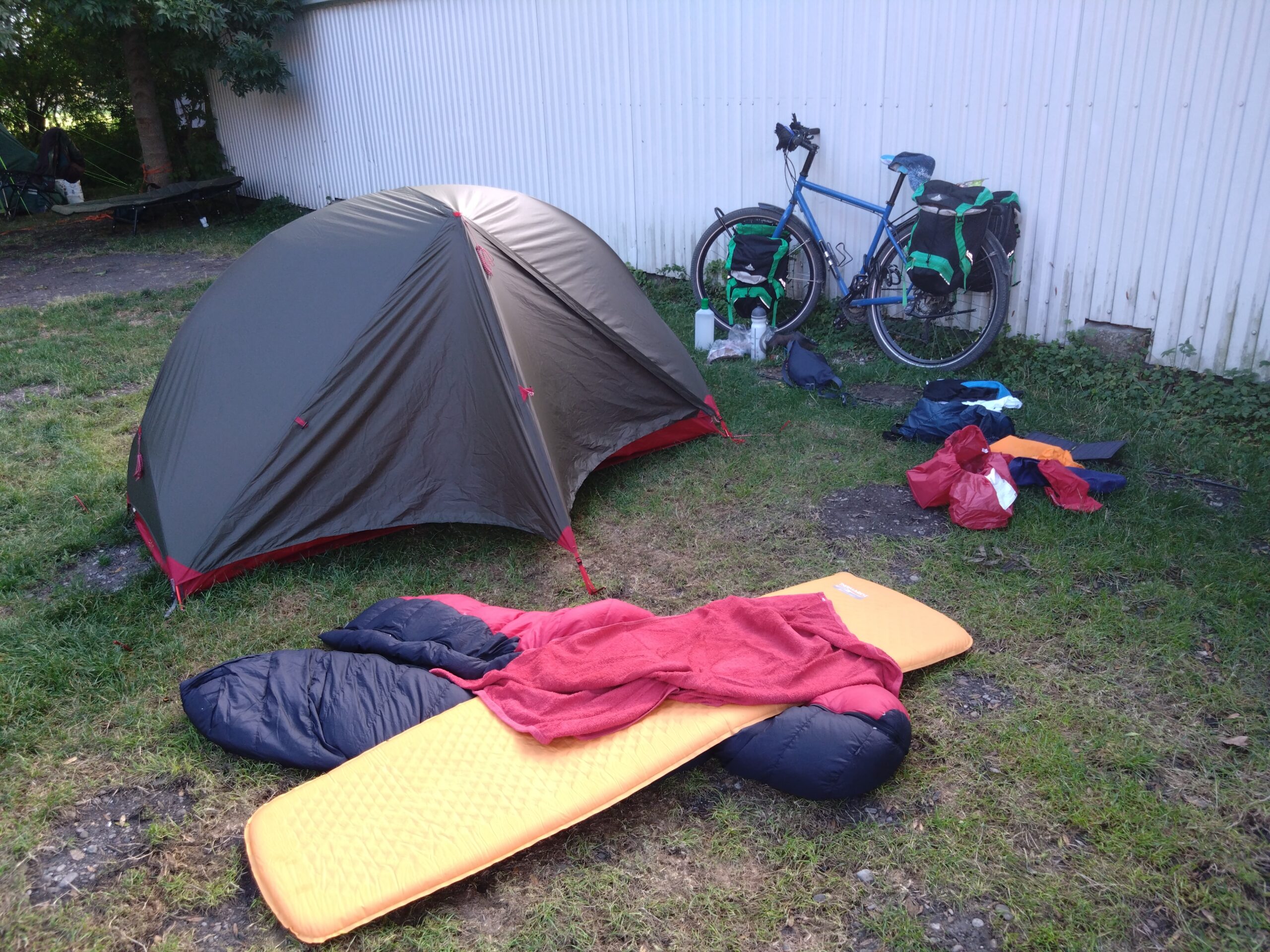 While I was packing up my neighbours chatted with me quite a bit. They have taken a Ukrainian woman and son (approx. 10, I would say) into their house and wanted to offer them something different. So they bought a tent and went camping about 30 km from home with them. Turns out that Klaus and Steffi, the couple, do not like camping. They cannot sleep there due to the traffic noise (my tent was slightly better positioned, the main noise I heard was their hacking cough – both heavy smokers), and Steffi's back hurt. They also had a dog (Australian shephard) with them, that was tied to a tree all day and night. They meant so well…
The first 15 km or so were brilliant for waking up, it was flat, through the woods, no other people, just beautiful. Saw quite a few animals again (a hare a day so far). Had the largest peace of Zwetschgenkuchen I have ever seen, and it was good.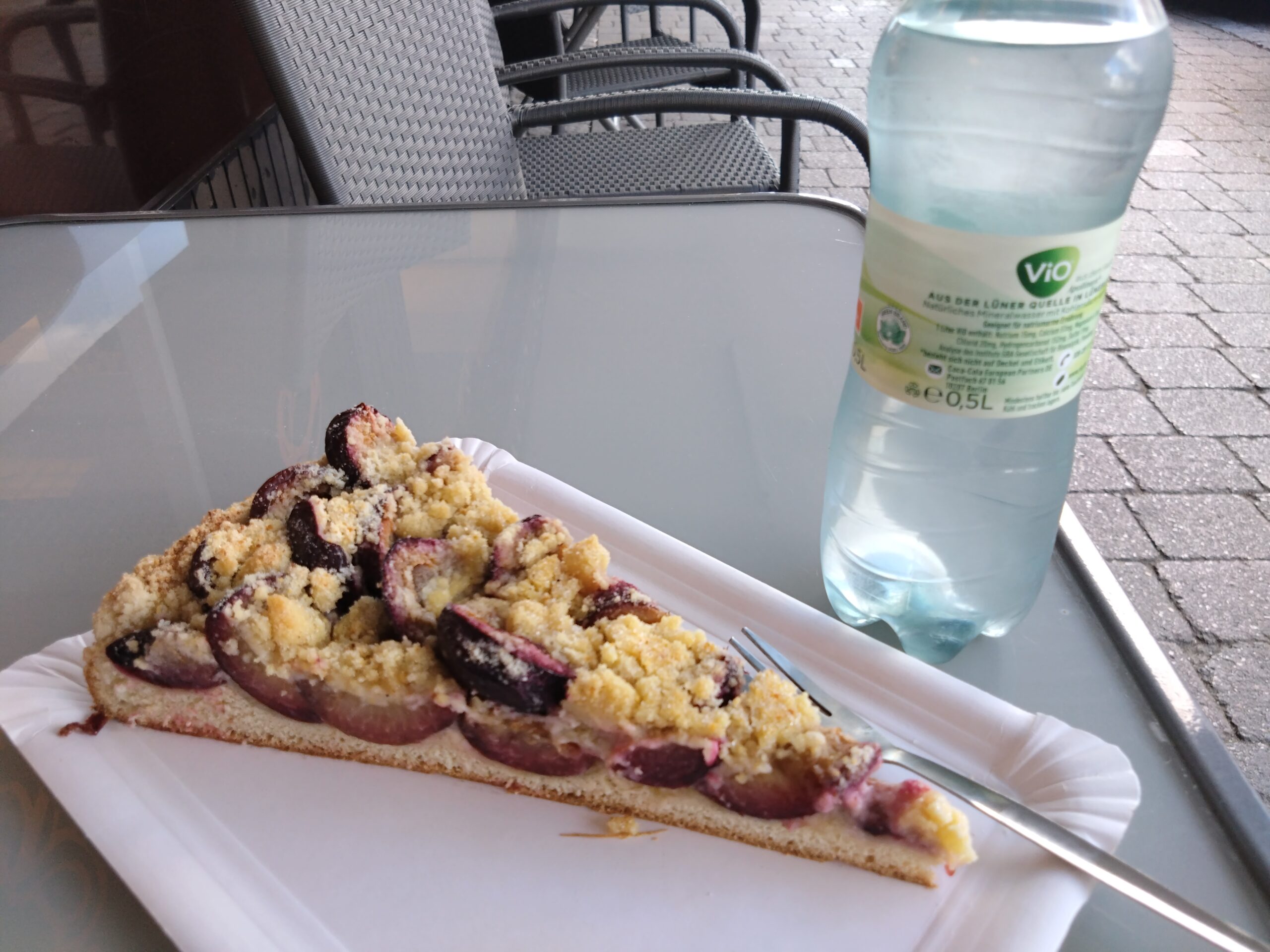 But then I saw the edge to the Schwäbische Alb in the distance and just hoped I did not have to go up there – I was so wrong, and it was soooo steep. The view in the end was worthwhile, though.
The church in Elchingen lies on this edge, and as impressive as it is from the outside, it is even more so from the inside. A lot of money from the Bavarian State seems to have gone into renovation and re-doing the grounds. Unfortunately it was only here that I found out that there is an app for audio-tours for a lot of the area I went through, I will try to listen to some of it as I go on. Apparently Napoleon was an important figure to Elchingen.
The bit where I went over and under the motorway was not quite so nice, but then I went into and over the Alb proper. Cyclists here seem to be of a different calibre than I have seen anywhere else, the official cycling routes are very similar to the path up to the Kesselalm in Birkenstein – not easy to ride with a fully laden bike. I am so glad my bike was serviced just before I left and I have new break-pads!
The views form the top are spectacular! The main reason I got to see these, was because the bike path I was going to take was closed due to danger of rock-fall. So I had to climb even more to get around this bit. At the end of the day I was really tired, after all it was almost 1000m of climbing all in all.
As the weather forecast had predicted thunder storms for the afternoon, and I know what they can be like in this area , I decided to look for a roof over my head. The only hotel in Neidlingen, where I wanted to stay, as it is the first place in Landkreis Esslingen for me, showed that it was full on the website, but you could try your luck ringing. So I did, but could not reach anybody… After a while I got a phone call back, something she landlady does, in case lonely long-distance walkers need accommodation – she made an exception for a cyclist. After a funny conversation on the phone – it was mainly about spelling my name, she apparently googled my. So when I arrived she knew who I was – strange feeling. I have a view of the church from the balcony, home from home.
Neidlingen is a small place with only one restaurant, which of course is closed on a Monday. As I had eaten most of my provisions, including the last bread and biscuits from Claudia at Biohof Stürzer (thank you for that!), I went to the local shop. As I was paying the heavens opened! So I waited inside a bit, with all the locals, that of course know each other. I was even offered a lift back to the hotel! I declined and walked, but was caught by the second thunderstorm on the way back, and then it continued to rain most of the evening – a good night not to be in the tent!