Turned out I was the only tent on that camp site, so I did not disturb anybody by packing up early. What is it with people on camp sites, that they do not seem to get up before 9:00? I did not have the patience for my tent to dry, so need to make sure I unpack it soon to do that.
Thought I would cycle a bit before I had breakfast, in the end it was all the way to Antwerp… Since it is really flat here, that was not a problem. What astounded me though, was the motorised traffic – immense amounts trying to get into Antwerp! I cycled past a car/lorry traffic jam of about 10 km at around 9:00. I know the lorry drivers do not have mich of a choice (but the haulage firms should think again!), but why are the car drivers doing this? The bus lane was kept free, so that would have been a much better option, if cycling is not on the cards. Saw quite a few middle aged men on S-Pedelecs, trying to go fast on the bad quality bike lanes (which they have to use here, different from Germany).
Robin phoned me to tell me the sad news that our uncle had died during the night. I used the breakfast in Antwerp as quiet time and to collect my thoughts and feelings a bit. Looked for a hotel (rain forecast again), and this time I have WiFi. The view is of a really interesting building, which I then found out to be a museum.
I have learnt in the meantime that museums are a great way of keeping cool on hot days (yes, another one), and it was actually very interesting – lots of history and background to Antwerp, especially also the harbour and its importance for the city. The view from the top of the MAS is also great, very recommended to any visitors.
As usual I then wandered around the town fairly aimlessly, the best way to see things in my opinion. Found this wonderfully decorated house and spoke to the occupant at length. Turns out he has been campaigning against motorised traffic in Antwerp for ages, but he agreed that it was probably even more difficult in Munich and surrounds. Ho hum.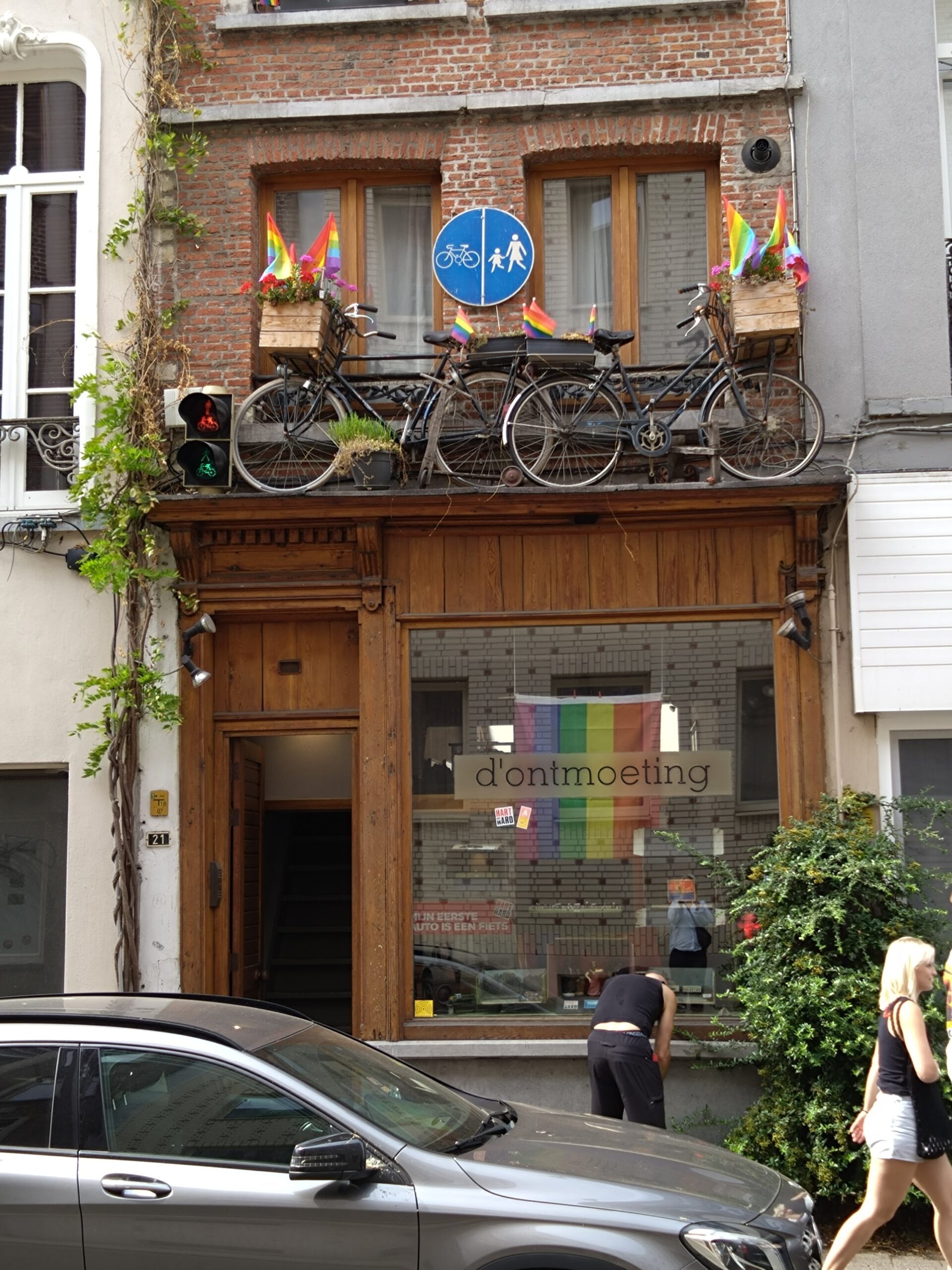 As is to be expected, some of the buildings reminded me of Brussels, but also some Dutch towns – but really in a very grand style here. I love that architecture.